Estimated
Est.
Read Time: 10 minutes
BODY FAT PERCENTAGE WOMEN – COMPLETE GUIDE
If you're still relying on scale weight to judge the success of your fat loss goals, you're wasting your time.
Yes, I said it.
Stop looking at your scale weight for good, because it doesn't give you a complete picture of fat loss or body composition, especially if you strength train.
Even BMI calculators, the medical hallmark for whether we're 'healthy' or not, are based on weight.  According to BMI, if you fall into the healthy range of scale weight for your age and height, then you are at a healthy body fat level.
However, many professional female athletes with lower body fat levels and higher muscle mass fall into the 'unhealthy' category for body mass index. This tells you that BMI is not an accurate measure of health and that 'ideal weight' doesn't really exist.
Many professional female athletes with lower body fat levels and higher muscle mass fall into the 'unhealthy' category for body mass index. This tells you that BMI is not an accurate measure of health.
If you're working on losing fat, it's also not a reliable calculation because it doesn't take into account lean muscle or body water.
Bodyfat percentage is a much better gauge than scale weight when it comes to evaluating progress toward your fitness goals.
When you are working on losing excess body fat, focusing on scale weight could cause a decrease in motivation when the numbers on the scale don't reflect what you hoped to see. By instead assessing body fat percent, you'll have a much clearer idea of whether you're meeting your goals!
Let's take a look at whether an 'ideal' or 'healthy' body fat percentage actually exists, how to measure your body fat, and how to create a body fat target range for yourself.
HEALTHY BODY FAT PERCENTAGE FOR WOMEN
Let me be clear that there is no ideal body fat percentage for women!
Instead, this will depend on your specific fitness and body fat goals.  It may also depend somewhat on genetics, your natural body type or 'build', and fat distribution, which is how stored fat tends to accumulate on your specific body. Fat distribution in women also changes as we age.
Due to all of these factors, two bodies with the exact same body fat percentage could look pretty different.
Finally, if you've ever heard men talking about sub 7% body fat, remember that women naturally have and need more fat on their bodies than men.  For example, if you look at the chart below, based on the American Council on Exercise body fat ranges, the essential bodyfat range for women is 10 – 13% while for men it is just 2 – 5%.
Body Fat Percentage Chart Women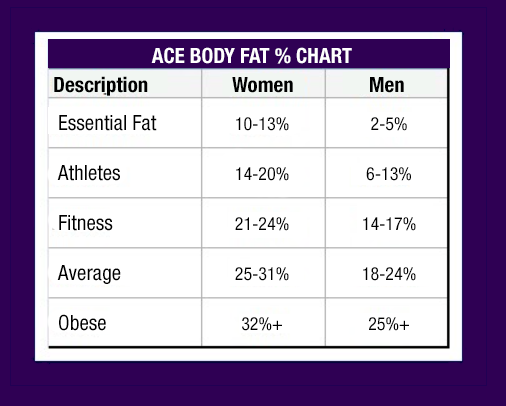 So, how do you know what your percentage of body fat currently is, determine a goal body fat percent for yourself and adapt your fitness and nutrition plan to reach that goal?
HOW TO MEASURE BODY FAT PERCENTAGE
There are a variety of ways to measure body fat percentage, but some of them are expensive and unfortunately many of them are inaccurate.
Let's take a look at a few and their pros and cons:
WAYS TO MEASURE BODY FAT
Online body fat calculator – Body fat calculators say they can calculate your body fat based on age, height, weight and activity level. Disregard these right off the bat, because they're NOT accurate.
Skin calipers – Otherwise known as a skinfold method, calipers give an estimate of body fat by having you pinch your fat in a few places throughout the body to measure bodyfat. Cheap ones are easy to find, but they can get varied results on the skinfold measurements based on who's doing the testing, the accuracy of the areas chosen for testing and their testing technique.  It's not uncommon to get a different body fat measurement when two different 'testers' take the same skinfold measurement on the same body.  More accurate skinfold calipers like Skyndex are several hundred dollars and can be cost prohibitive.
Bioelectric impedance – There are two main types of bioelectrical impedance analysis devices: one that you hold in your hands and body fat scales. These devices send out a low level electrical signal into a foot or hand and measure how long it takes the signal to travel to the other foot or hand. Fat will slow this down, while muscle, being a depot for water, will speed it up. These types of measurements can also be inaccurate because many things can impact the signal as it travels through the body including callouses on hands or feet, or how you hold or stand on the device.
Hydrostatic weighing – This underwater weighing process estimates body fat by measuring your weight on land and in the water. Fat is lighter than bone and muscle, so if your underwater weight is on the heavy side, you have a lower body fat percentage. This method of calculating body fat percentage is one of the most accurate, but it can also be expensive and may only be offered by hospitals, universities and sports organizations.
DEXA scanning – DEXA stands for dual energy xray absorptiometry in which you receive an x-ray scan that evaluates bone mass, lean body mass and fat mass throughout different areas of the body. It's not quite as accurate as hydrostatic weighing for measuring body fat, and it can also be expensive.
One thing that's also worth noting is that you may get a wide variety of body fat percentage results from one method to the next, which can be confusing!
There's one more way to get an estimation of body fat percentage, which may be just as reliable of some of the others.  Better yet, it doesn't cost a penny! And that's to rely on the eyes.
MEASURING BODY FAT PERCENTAGE VISUALLY
Measuring body fat percentage visually can be a great way to determine body composition without any expense at all.
That's why we've put together this series of images to show what different body fat percentages look like for women. You can use these photos to gauge where you're at now, and to create a goal for yourself to work toward.
Below the chart, we've given a description of each bodyfat range so that you can determine which range fits your personal fitness and nutrition goals.
Body Fat Percentage Women Pictures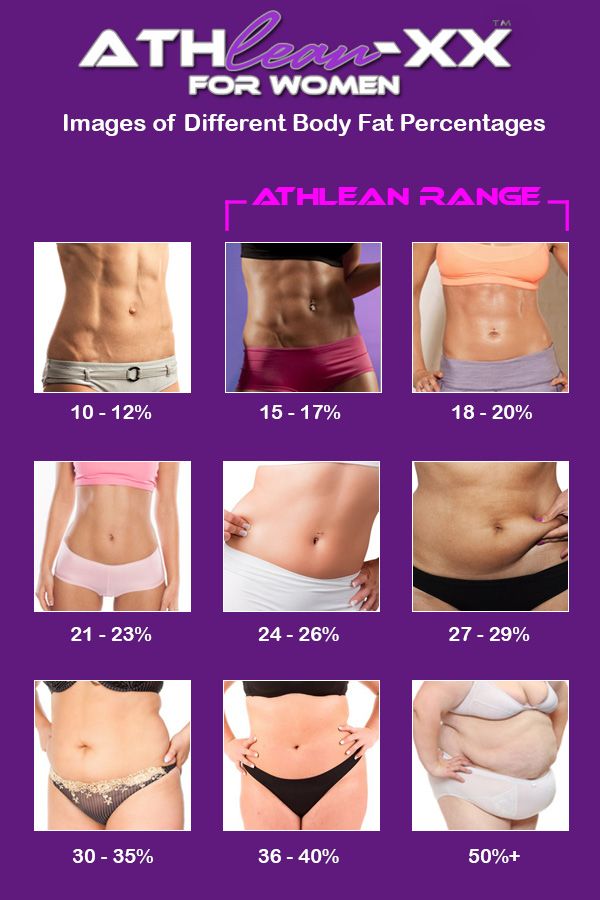 10 – 12% Body Fat
As you can see, this body fat range overlaps with the essential fat range on the American Council on Exercise chart above. This low of a body fat percentage in women is very hard to attain and is one that's often sought by female bodybuilders for competition.  This is nearly impossible to maintain year-round, so most female bodybuilders will actually have a higher level of body fat when they are not in competition season.  This very low body fat level can put women at health risk and they can begin to experience amenorrhea (lack of menstrual periods), so this isn't a recommended target range for most women.
At this body fat level not only can you see the separation of the individual muscles, but you can also clearly see the striations in the muscles and vascularity (veins sticking out).
15 – 17% Body Fat
The 15 – 17% body fat range is a little more than a female bodybuilder has during competition season, and is more accessible for women if they are extremely committed to fitness and nutrition. But it's important to recognize that to attain and maintain this body fat percentage, it's going to require incredible dedication and consistency to the right nutrition and fitness program and LOTS of HARD WORK!
In this body fat range, a women will have a visible six pack and you can still see some muscle striations and veins.  The 15 – 17% body fat range is achieved by many female fitness models in preparation for photo shoots.  At this range, hips, buttocks and thighs will look muscular and less round.  Some women still do experience lack of menstrual periods in this range.
18 – 20% Body Fat
The 18 – 20% body fat range is a more reasonable target range for women who are after that 'athletic' look because it's easier to maintain than the higher levels.  At 18 – 20%, you can still see strong ab muscles, but the six pack may not be as defined.  While there's usually a small amount fat on the hips, thighs and butt, it's not very noticeable.  Some women reaching for higher levels of fitness prefer this look because it retains some curves.
21 – 23% Body Fat
This body fat range is generally considered 'fit' and many female athletes and most fit celebrities fall into this range.  At 21 – 23% body fat, you may see a small amount of ab definition, but definitely no six pack.  There will be slightly more curves in the legs and buttocks at this range than in the 18 – 20% range.
24 – 26% Body Fat
This body fat percentage is considered the low range of average for women in many body fat charts.  At this level a woman is generally considered to look slim, but not too skinny.  Curves in the hips, thighs and buttocks will be apparent at this range.
27 – 29% Body Fat
At this body fat range, fat begins to accumulate in the breasts, stomach, legs and butt.  If a woman has been training, you may be able to see some muscle definition in some areas, but you may also be able to pinch some fat in the abdominal area.
30 – 35% Body Fat
At the 30 – 35%, curves in the stomach, breasts, hips, thighs and butt will be more pronounced.  You will probably not see much muscle definition at this range.
36 – 40% Body Fat
At this range, the hips begin to become wider and the face and neck will become rounder.
50% + Body Fat
The 50+ range is considered to be morbidly obese on most body weight charts.
Remember, it's important to keep in mind that body fat percentages can look really different on different women – depending on height, age or the way fat is genetically distributed in your body.  Body fat percentage is a much more accurate way to gauge progress than the scale, because it takes into account any muscle you may be adding to your frame during your workouts. Instead of shooting for a goal weight, try shooting for a goal body fat percentage.  Toss out the scale and use a tape measure or the above photo guide to judge month by month progress.
If you're looking for the right fitness and nutrition program to get you into a leaner body fat range, we've got you covered.
MAX/Shred ==> Focus on fat loss without losing muscle mass
AX1 ==> Build muscle and blast fat at the same time
Program Selector ==> See which program best fits your goals
THE HIGHLIGHT REEL:
BODY FAT PERCENTAGE WOMEN
Scale weight is not a good way to measure progress toward fitness goals because it can't tell the difference between muscle weight, temporary water weight or fat weight.
BMI is also not an accurate way to gauge body fat or health, because it doesn't take into account the amount of muscle mass you may have on your body. It is based only on height, weight, age and self-reported activity level.
Body fat percentage is a better way to measure progress toward fat loss and fitness goals.
There are several ways to measure body fat percent, but each have their pros and cons. Some are inaccurate and inexpensive while others are more accurate but more expensive.
Estimating body fat visually can be a great way to determine your current level and create a goal for yourself. We've provided a body fat photo chart and some guidelines to help you decide what body fat percentage goal you want to work toward.
Popular & Trending